WEB BUSINESS SOLUTIONS, INC. RECEIVES 2022 HIRE VETS MEDALLION AWARD FROM U.S. DEPARTMENT OF LABOR
U.S. Secretary of Labor Eugene Scalia recognized Web Business Solutions, Inc. as one of the recipients of the 2022 HIRE Vets Medallion Award during an award ceremony at the U.S. Department of Labor. Web Business Solutions, Inc. earned the GOLD Award after applying earlier this year. The Honoring Investments in Recruiting and Employing American Military Veterans Act (HIRE Vets Act) Medallion Program is the only federal award program that recognizes job creators who successfully recruit, hire, and retain veterans.
Web Business Solutions, Inc. joins many other companies from 49 states, plus the District of Columbia, who have shown a commitment to hiring veterans, but also ensuring that they have a long-term career and growth plan that uses the diverse skills they acquired through their military service.
The HIRE Vets Medallion Award is based on a number of criteria, ranging from veteran hiring and retention to providing veteran-specific resources, leadership programming, dedicated human resources, and compensation and tuition assistance programs – with requirements varying for large, medium, and small employers.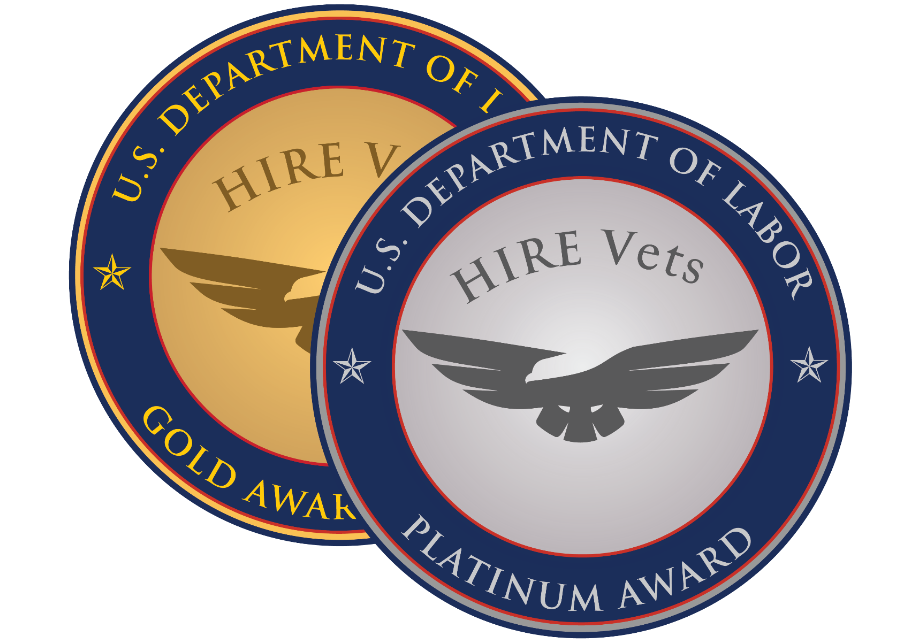 ABOUT WEB BUSINESS SOLUTIONS, INC.
WBSI is an agile and responsive Service Disabled Veteran Owned Small Business founded in 2003. WBSI offers curriculum developing and instruction to the U.S. Federal Government, has on-site facility access control support at designated locations, and provides Network Integration and Operations services ensure the availability of critical systems. Our success has been predicated on hiring the most qualified seasoned staff to ensure we deliver the highest quality services and solutions to our customers. We apply the most efficient recruiting methods which enables us to provide our customers with cleared individuals whose experience and technical expertise exceed the requirements of the job.
WBSI takes pride in providing expert engineers to solve our customers' toughest problems. Our priority is to make our customers succeed by delivering quality, value-driven service.
People, process, technology: WBSI ties it all together.
About the HIRE Vets Medallion Program
The HIRE Vets Medallion Award is earned by leading businesses that demonstrate unparalleled commitment to attracting and retaining veterans. The 2023 HIRE Vets Medallion Program will open to employers on Jan. 31, 2023. For more information about the program and the application process, visit www.HIREVets.gov.